About Karen Bergstrom: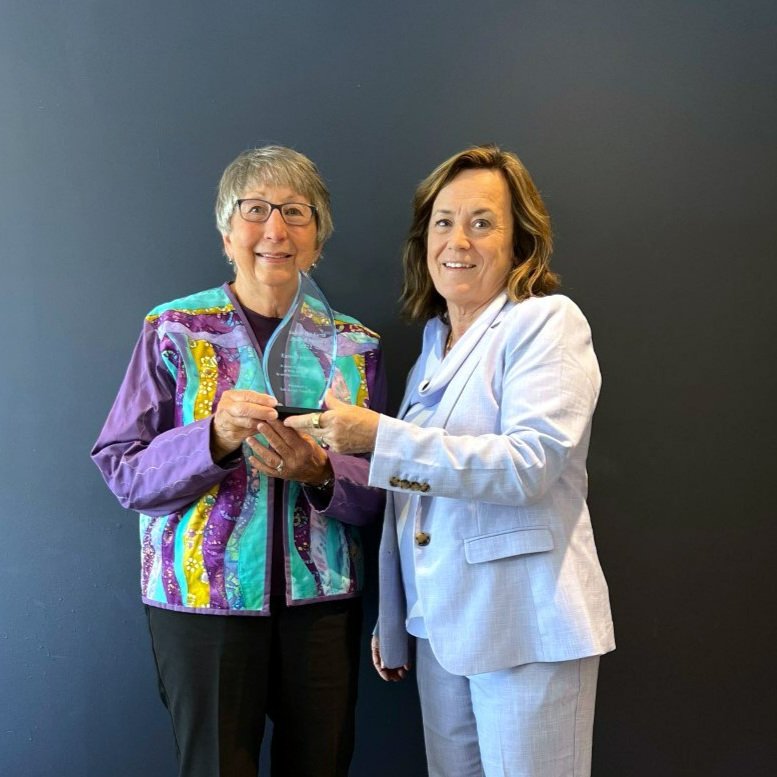 On March 20, 2023, Safe Harbor Estate Law hosted its annual Salt of The Earth Award Ceremony honoring an "unsung hero" of the community who has consistently serves others with compassion, integrity, humility, and consistency. The award was created in 2019 to honor Ervin F. and Beverly A. Barrett, parents of Safe Harbor founding attorney Margaret Barrett. Each year we honor someone who is "the salt of the earth' – respected, reliable, trustworthy, caring, faithful, and honest – someone who deals with difficult or demanding situations without making an unnecessary fuss.
This year's award recipient was Karen Bergstrom, who has spent a lifetime in service to others, fueled by her unshakable faith.
Karen's son, Brian Bergstrom, nominated Karen for this award. Below is a quote directly from his nomination form: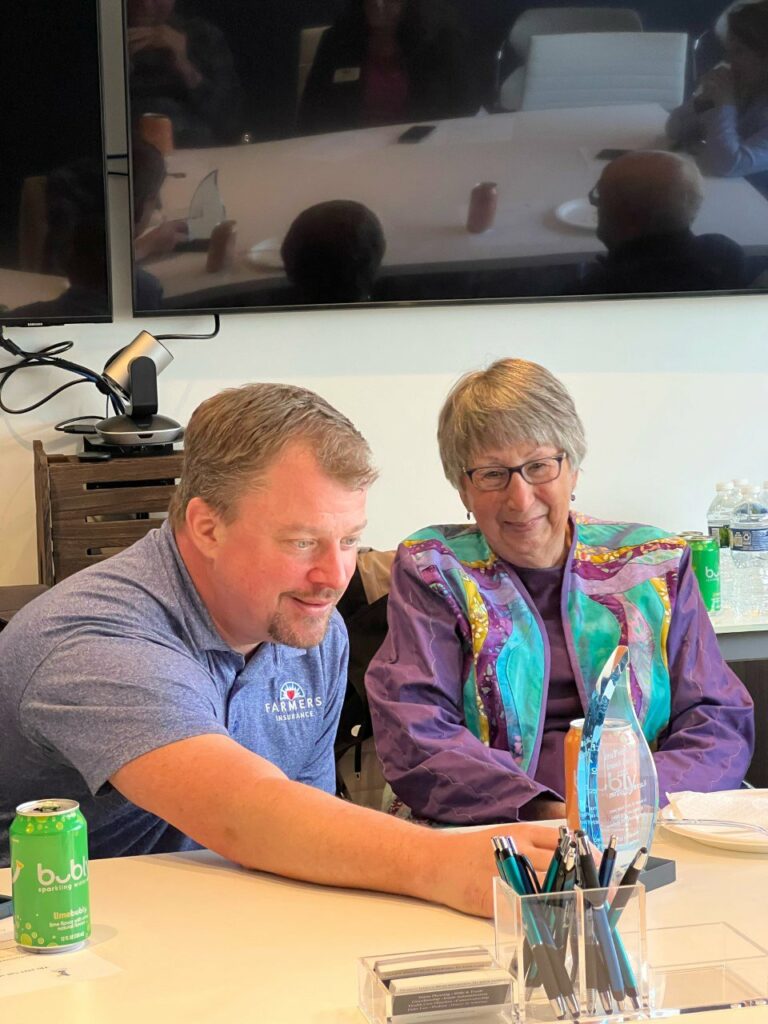 Pictured: Brian & Karen
"Karen has continually sacrificed of herself asking for nothing in return. She is the first to arrive, the last to leave, never complaining, always picking up the pieces quietly in the background in hopes of a better tomorrow. Karen has lived a life caring for others and placing every person she meets ahead of herself to give glory to God. I owe every ounce of love and compassion that I have to her guidance and the example she set for me. Karen has never asked for recognition, and unfortunately it doesn't often come to those who serve consistently and humbly as she does. She deserves the Salt of the Earth award because she is the definition of humility, faithfulness, compassion, and service."

– Brian Bergstrom
Karen, who celebrated her 80th birthday in September 2022 (but you would never know it) worked as a registered nurse for 35+ years, with the last 15 years working in hospice home care. She has worked consistently serving her church in various aspects including organizing financial support for the less fortunate, feeding hungry families, and gathering donations to distribute. Karen has also opened her home as a safe haven to Hmong immigrants.
"I'm very flattered and honored. When I first heard from Brian about me being chosen for this, we both cried on the phone."

– Karen Bergstrom
The Salt of The Earth Award comes with a $1,000 donation from Safe Harbor Estate Law to the organization of the recipient's choice. This year, Karen chose to donate to Fierce Freedom out of Eau Claire, Wisconsin (read more here).
"The first organization that came to mind was Fierce Freedom, but then had to think it over, and I just kept praying about it, and it just seemed like Fierce Freedom was the place to go."

– Karen Bergstrom
Fierce Freedom works to end the cycle of human trafficking and exploitation through educational programming, coordinating with schools, law enforcement, churches, and anywhere that will have them. We were honored to have Jenny Almquist, the organizations founder and executive director, present for the ceremony to say a few words: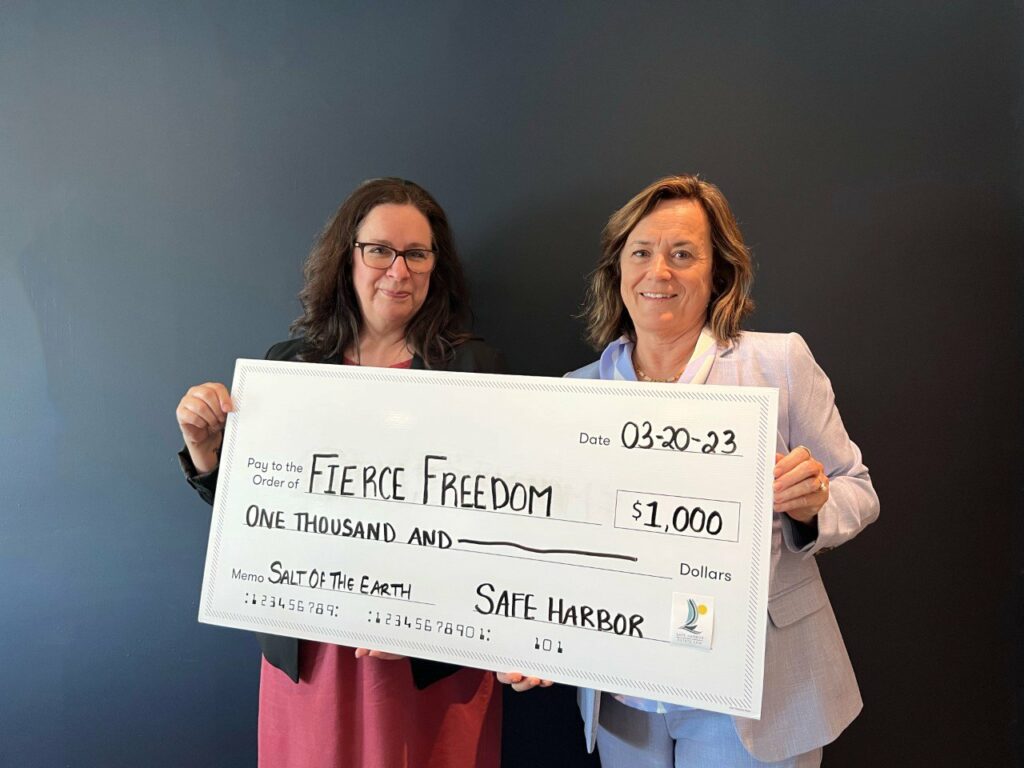 Pictured: Margaret & Jenny
"When I started this organization, it was because I had no idea that human trafficking was happening in America, let alone in our backyard, until I attended a conference that was highlighting it. You hear about all these young people who are trafficked and what it does to their lives. I knew that I had to do something. We are hopeful to educate and talk to people at schools, churches, anyone who will listen. We are in our second year of K-12 program called "Worth It." We find the biggest margin of vulnerability is when we find children don't feel worth or value, so they are more easily groomed. One way it looks in their schools is boyfriends are selling girlfriends to their friends – happening in every single school district we have spoken to. If we can let kids know they were created with value and there is a plan and purpose for their lives, that is the best thing we can do…we are so appreciative of Karen's donation."

– Jenny Almquist
Safe Harbor is thrilled to honor Karen Bergstrom for her years of service to those in our community.
————–
An "unsung hero" of the community who has consistently served others with compassion, integrity, humility, and consistency.
About Safe Harbor Estate Law: Safe Harbor Estate Law creates legal plans to protect your assets, and your loved ones, saving money and hassle in the process. You manage your assets now. How will they be managed when you are gone? If you are in retirement or considering retirement, it's critical to solidify a plan for your family (and at any age!). Learn more at www.safeharborestatelaw.com.