Deb Nygaard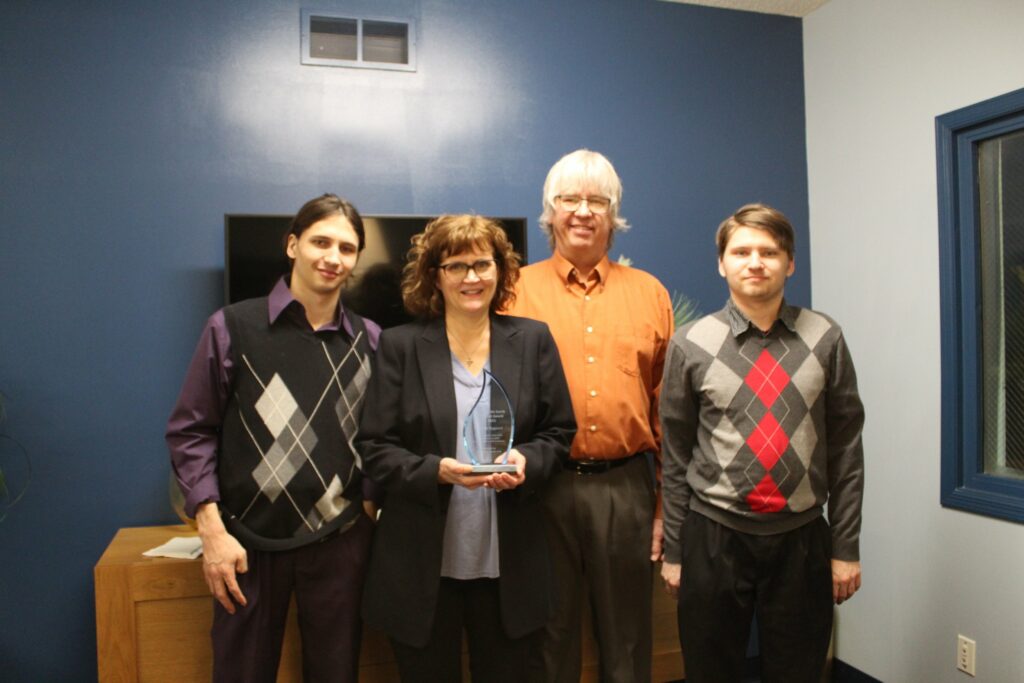 The 2021 Salt of The Earth Award recipient was Deborah Nygaard, an extremely hard-working, compassionate, woman with an incredible heart for service born out of her faith.
Deb has served many years with Days for Girls International, a nonprofit that changes the lives of women and girls in other countries by providing sustainable, reusable, washable products to help them manage their periods. These products and the education provided with them enables the girls to stay in school and increases their self-confidence and acceptance of their bodies (read more here: Our Mission – Days for Girls International).
All of the girls refuse to make eye contact and are shut down when we first start teaching them about the kits, but by the end, they are bouncing off their chairs, learning how to use the kit, practicing, and they are beginning to feel good about themselves. The stigma is changing." – Deborah Nygaard
"Deb's service with Days for Girls goes right along with our law Firm's first core value: Caring. To value every person and treat them with respect and kindness, seeking to add value in every interaction." -Margaret Barrett
Deb heads up a local team of volunteers that sews and packages the cloth feminine hygiene products and ships them overseas. Each is package kit made with care includes the following items: a drawstring carrying bag, absorbent liners, smaller waterproof carry pouch for storage and washing, washcloth, panties, soap, waterproof shields, and a care/use instructional sheet. Deb is very generous with her time and talent, but she receives much in return:
"The thing that gives me the most joy is Days for Girls – my volunteerism has changed over the years, but this is a wonderful thing that I can do from home. When I pack the kit, I think about the girl that will receive this particular one, and how it will change her life. I pray over every suitcase before it is sent out, praying they know they are worthy of dignity and respect and God's love." – Deb Nygaard
Deborah also has been working for ACR homes for 32 years in a variety of roles. During the pandemic, when her regular job of placing residences residents in the care group homes screeched to a halt – Deb rallied 75 volunteers to make thousands of masks for the staff at ACR Homes. Her volunteer role shifted to "Supply Chain Engineer" as she worked to keep all her sewists supplied with enough fabric during a time when stores were closed and many supplies backordered. A utility trailer in her driveway became the supply pick-up and drop-off depot.
In other areas of volunteer work, Deborah is a certified trainer of the Positive Approach to Care which helps family members problem-solve communication challenges with their loved-one who has dementia. Deborah also volunteers at her church, playing piano and bass guitar, also serving at various community service events.
Deborah has served on several boards and volunteered in the Senior Industry including Saint Paul Senior Workers, the Fall Aging Conference, the Northern Senior Living Network, the HealthPartners Center for Memory and Aging, the Roseville Alzheimer's and Dementia Community Action Team, and the Dementia Friendly Airport Working Group.
Finally, Deborah was the President of the Roseville Rotary for 2020/21, helping usher members into the online world when the pandemic hit. Deborah also served as the Regional Director for the Rotary Action Group on Menstrual Health and Hygiene, representing the United States and Canada.
Safe Harbor is thrilled to honor Deb Nygaard for her years of service to those in our community, near and far.
————–
An "unsung hero" of the community who has consistently served others with compassion, integrity, humility, and consistency.
________________
About Safe Harbor Estate Law: Safe Harbor Estate Law creates legal plans to protect your assets, and your loved ones, saving money and hassle in the process. You manage your assets now. How will they be managed when you are gone? If you are in retirement or considering retirement, it's critical to solidify a plan for your family (and at any age!). Learn more at www.safeharborestatelaw.com.
Contact: info@safeharborestatelaw.com
Phone: 612-615-9535